Welcome!
Welcome to Georgetown University's undergraduate Journalism Program. Any internship, scholarship, fellowship or job postings that you would like the journalism program to circulate please send to jourminor@georgetown.edu. We are happy to share via our program Twitter feed. Check out our course offerings for Spring 2020 here.
---
News
The Free Speech Project Events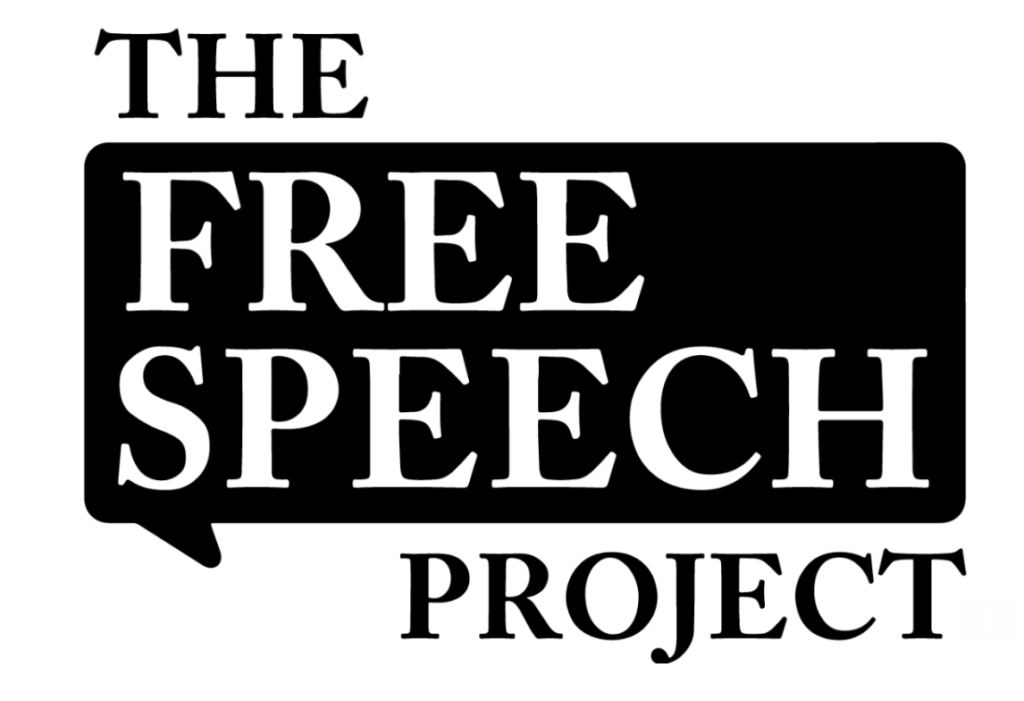 Georgetown's Free Speech Project is hosting a panel discussion called "Should the U.S. Export First Amendment Values" on Thursday, Jan. 30 at 6 p.m. in Riggs Library.
"Writing to Be Heard" Special Courses
Professor Maureen Corrigan invites anyone who may be interested to two of her "Writing To Be Heard" classes this semester on Thursday evenings from 5-7:30 p.m. in ICC213. This course explores how to convey substantive ideas to a wide audience of educated non-specialists.
On Jan. 30, Pulitzer Prize-winner Carlos Lozada will talk about his work as non-fiction book critic and journalist at The Washington Post.

On Feb. 6, Hanna Rosin and Alix Spiegel, co-hosts of the NPR program "Invisibilia" will discuss the special challenges of "writing for the ear."
2020 Journalism Minor Application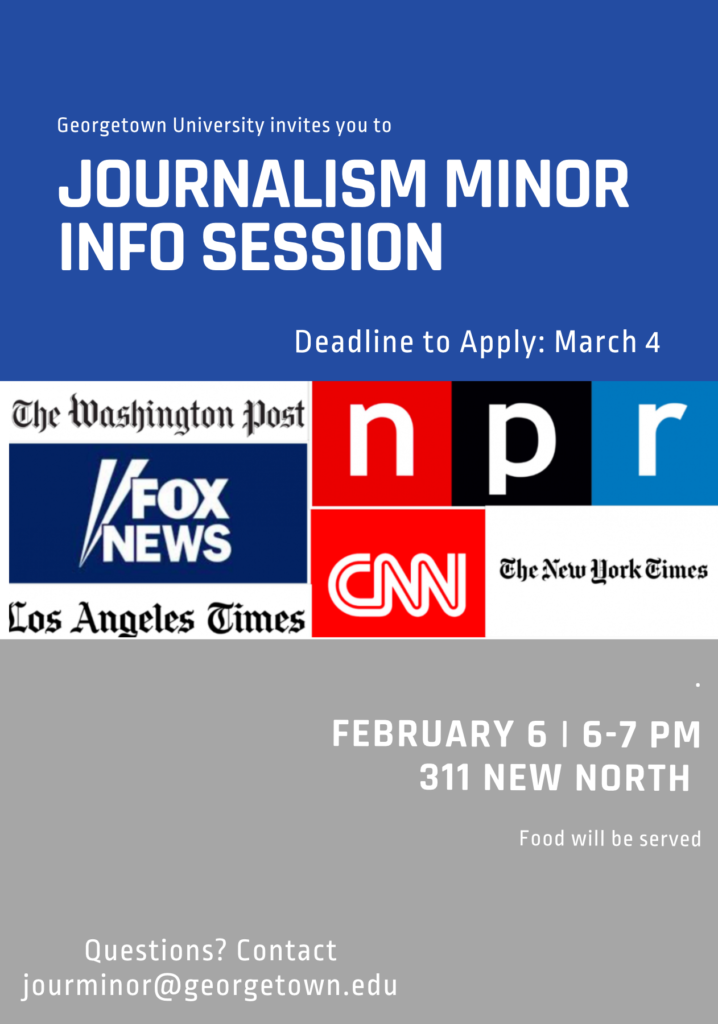 Want to minor in journalism? The Georgetown Journalism Program will be hosting an info session to answer any of your questions or concerns on Thursday, Feb. 6 at 6 p.m. Food will be served!
The Voice's Special Event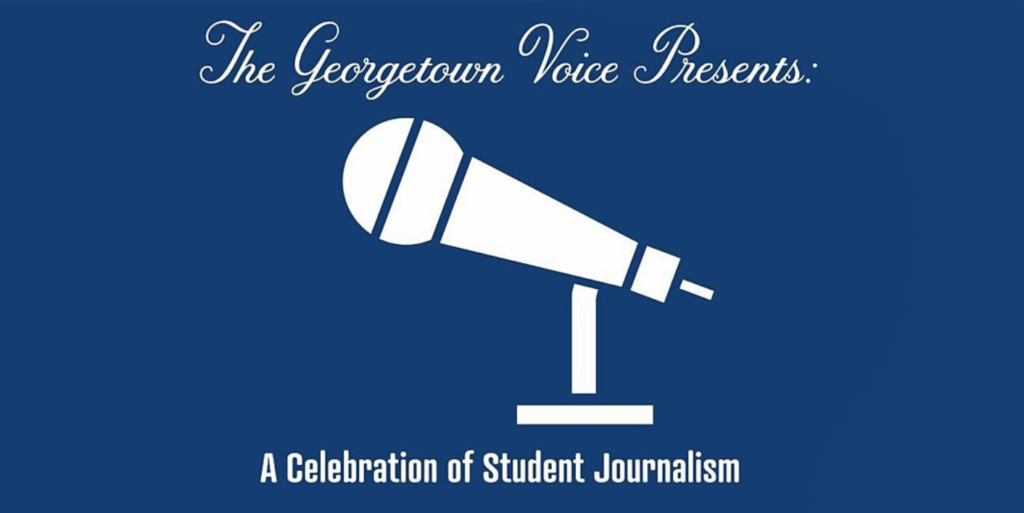 Come celebrate student journalism with The Voice at 6:30 p.m. on Saturday, Feb. 15 for a night of music and dancing! A panel of professional speakers will be present, and food from Falafel Inc will be provided. To RSVP, click here.
Pulitzer Center International Reporting Fellowship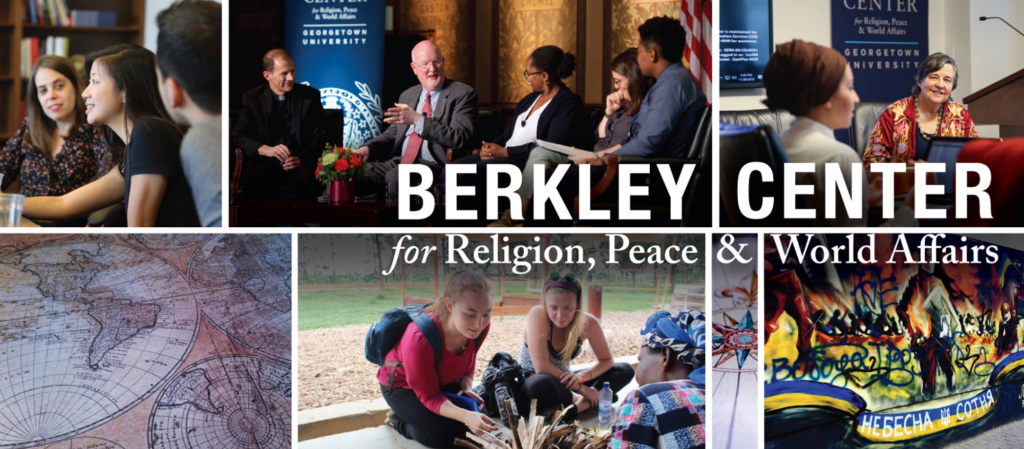 Get the chance to be paid to do some investigative reporting for summer 2020! The Berkley Center for Religion, Peace and World Affairs will select one student to receive the Pulitzer Center International Reporting Fellowship. Projects should investigate the religious dimension of an international issue. If interested, please consider attending the info session on December 4. The application deadline is February 15, and all materials must be sent to ryann.craig@georgetown.edu. Click here to find details about applying.
Summer Study Abroad

Want to study abroad this summer but also take a journalism course? Join Ann Oldenburg and take her three-credit course, "International Journalism: Reporting from Florence." Stay in the gorgeous Villa le Balze for three weeks (June 26-July 18) and experience a global perspective in reporting. Click here to apply. Applications are due February 13, 2020. *No prior journalism experience is needed, and non-minors are encouraged to apply!*
---
About the Program
The Journalism Program offers a Journalism minor, not a major. The minor provides a bridge between a liberal arts education and the practice of journalism, which contributes to democracy by informing citizens and promoting public discourse.
The program teaches the essential skills of good journalism: critical thinking, research and investigation, clear expression, and storytelling in every form. It explores the journalist's duty to the truth, public and private ethics, the pressures of a changing media ecosystem, and all the other challenges that face the modern reporter, editor, critic, essayist and public intellectual.
The minor's interdisciplinary approach highlights a commitment to public affairs, international issues and social change. The minor encourages real-world experience, includes a required internship, and aims to enhance students' opportunities in journalism and related fields.
Combining traditional commitments to accuracy, fairness and accountability with a passion for new media experimentation, the minor prepares students for careers in a changing media environment and complements a wide variety of major fields of study.
Director: Los Angeles Times reporter and columnist Doyle McManus brings experience from his work as a foreign correspondent, White House correspondent, and Washington bureau chief for the Los Angeles Times, where he continues to write weekly columns. He can also be found on PBS's "Washington Week" and NPR.
Assistant Director: Ann Oldenburg began her career at The Washington Post and spent more than two decades at USA Today. She began her career as a lecturer at Georgetown in 2016.
The journalism minor, founded by Barbara Feinman Todd, author and professor emerita, launched in the fall of 2012. On the rest of this site, you will find program information, resources, internship listings and the Journalism Program's own alumni stories.
---
---