Courses and Requirements for the Minor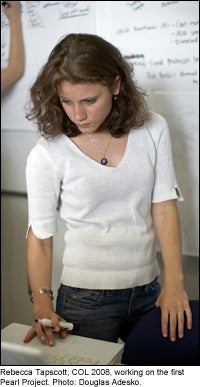 To complete the minor, students must take at least six Journalism courses, including four required classes. The minor also requires completion of an internship at a news media outlet.
All courses are open to non-minors unless specified otherwise.
The required courses are:
JOUR-100 Introduction to Journalism
Offered in the fall and spring
This course provides students an overview of the basics of journalism, beginning with how to assess the news value of an event or situation, how to develop story ideas and how to put together a story. Much attention is paid to writing clearly and accurately and developing interviewing skills. The course also introduces students to the changing media landscape and the various multi-platforms available to journalists today. Journalistic ethics are a focus as well. Guest speakers include working journalists from the Washington media community. There will be several short writing assignments and a final project.
Note: This is the gateway course for journalism minors.

JOUR-200 Digital News
Offered in the fall and spring
This course gives students a firm grasp of the skills necessary to produce online news content as well as an understanding of the forces that are driving the rapidly changing and diversifying online news industry. Students receive a mixture of practical instruction in online news writing, multimedia news production, blog posting, infographics and social media management. Students are also be expected to engage in critical analysis of the journalism profession, contemporary online journalism and the economic, social and technological drivers shaping online news consumption. Assignments include breaking news stories and multimedia elements, including podcasting and video production.
Prerequisite: JOUR-100 Introduction to Journalism

JOUR-350 The Media Industry
Offered in the spring only
This course is for students who are participating in an internship (or have already completed an internship) at a media outlet (print, broadcast or online). This workshop-style course will give students an opportunity to share their experiences with other students engaged in similar journalistic pursuits, while exploring the business of journalism, career journalists and the media world at large. Written assignments will include a semester-long journal and ongoing occasional short pieces and a final media project that includes creating a personal career plan.


JOUR-490 Journalism Capstone
Offered in the spring only
Candidates for the minor take this course in the spring of their senior year. This course requires one substantial piece of journalism and one substantial academic paper exploring a critical topic of journalism, studied in its cultural, ethical and/or historical contexts.
Sequence
Courses should be taken in the following order to successfully complete the Minor:
JOUR-100 Introduction to Journalism
JOUR-200 Digital News
JOUR-350 The Media Industry
JOUR-490 Journalism Capstone must be taken in a student's senior spring semester.
The two required electives may be taken at any time.
Electives
The list of electives below is not comprehensive, and not every course is taught each semester. Current lists of courses will be maintained by the Minor Director and the College Dean's Office. Courses that students wish to count toward their electives that are not on the list must be presented for review to the Minor Director before the student takes the course.
JOUR-361 Feature Writing
JOUR-363 Art of Editing
JOUR-364 Living Out Loud: Writing for Radio
JOUR-365 Covering Sports
JOUR-366 Food Writing
JOUR-367 Media Law in the Digital Age
JOUR-368 Media and Social Justice
JOUR-369 The Reported Memoir
JOUR-370 Magazine Writing in the Digital Age
JOUR-372 The Interview
JOUR-373/ENGL-299 Washington Confidential
JOUR-374 Video News Production
JOUR-376 Covering the White House
JOUR-377 Government-Media Relations in the Digital Age
JOUR-378 Pop Culture, Race & The Media
JOUR-379 Broken News: Journalism & Citizenship
JOUR-380 Crime, Justice and the Media
JOUR-385 Science and Environmental Justice
JOUR-400 Telling the Truth
ARAB-213 Arabic Media I
ARTS-162 Introduction to Graphic Design
ENGL-241 Literary Representations: NYC
ENGL-256 Documentary
ENGL-282 Creative Non-Fiction Writing*
ENGL-294 Writing to be Heard
ENGL-458 The Writer's Perspective
AMST-379 Sports Personalities of the 20th Century
FMST-350 Film Festival Studies
FMST-355 Documentary Film: History and Theory
FMST-399 CBL: Social Justice Documentary
GOVT-393 American Politics and the Media
JUPS-333 Alternative Media and Post-Colonial Communication
MUSC-161 Writing About Music
MUSC-251 Audio for Documentary
MUSC-270 The Music Documentary
MUSC-361 Podcasting
SEST-601 Media, Public Opinion and National Security
Fall 2021 Courses
The Georgetown Journalism Program is excited to welcome students back to the Hilltop this fall! Scroll through our list of journalism courses that will be offered during the Fall 2021 semester.
JOUR-100 Introduction to Journalism (W or R 9:30a.m.-12p.m.)
JOUR-200 Digital News (T/R 12:30p.m. -1:45 p.m.)
JOUR 303 – Covering the City (M 6:30p.m.-9:00 p.m.)
Covering the City Washington, D.C. is a vibrant city that has seen tremendous change in recent decades. Students will learn about the history and layout of Washington, how city government, courts and agencies work, and how gentrification and development have impacted many neighborhoods. Students will visit various areas in Washington, meet reporters who cover the city, attend neighborhood meetings, and meet community leaders and activists. The goal of the course is to give students the skills, knowledge and understanding to cover any city. Prior Journalism courses/experience will be helpful.
JOUR-325 Opinion Journalism (W 6:30p.m.-9:00p.m.)
Opinion writing has been an integral part of journalism since the first newspapers appeared — and in the digital age, opinions are more ubiquitous and seemingly more popular than ever. Good opinion writing draws on the same ingredients as other forms of journalism: solid research and reporting, clear thinking, and vigorous style — including, when possible, a dash of wit. This course will be both a seminar and a writing workshop. It will examine how opinion writers construct convincing arguments in many forms: editorials, columns, op-eds and criticism. Through writing assignments and class discussions, students will learn to do the reporting that is the foundation of credible opinion pieces and will develop critical thinking and writing skills required to convey their views clearly and persuasively.
JOUR-368 Media and Social Justice (T 3:30p.m.-6:00p.m.)
Part of Journalism's mission is to tell the stories of those who are disenfranchised, marginalized or oppressed, the stories of those who are most vulnerable to injustice and inequality. But is journalism really about justice? Should it be? This seminar will explore ways to report on social justice topics, through Opinion writing, Solutions Journalism, Immersive Journalism, Movement Journalism and Investigative Journalism.
JOUR-376 Covering the White House (T 6:30p.m.-9:00p.m.)
It's the most esteemed job a reporter can have — a stint on the White House beat. But what's it really like? This course will go behind the scenes in The West Wing to see how the media is covering the Biden Administration. Students will hear first-hand from some of the country's best print and broadcast reporters and producers. They will also get the perspective from an award-winning still photographer and a former White House Press Secretary. Students will also have the opportunity to attend a White House Press Briefing. Although this course is a seminar, students – through writing assignments and class discussions, will learn how to construct a fair and balanced White House story.
JOUR-384 Visual Storytelling (M/W 8:00p.m.-9:15p.m.)
Advanced Video Storytelling is tailored to those interested in producing compelling stories for all video platforms. Students will bring together the finer creative points from multiple genres including commercial production, documentary production, news production, and non-narrative storytelling into one creative, hands-on class. This course will provide students with both theory and practical techniques using top professional cinema cameras and editing systems to learn how to capture the viewer's attention through compelling sequences, shots, lighting styles, creative audio and story structure. AVS will give students the option to choose their favorite genre and types of stories for multiple class projects. AVS will also focus on the concept of subjects telling their stories in their own voices, without heavy narration or reporters on camera. Students will identify visually compelling stories, learn to master video and edit systems, take part in video shoots at different locations, make successful pitches and attend story sessions where the work is critiqued by both the class and media professionals. Jour 374 or familiarity with video production and editing on Adobe Premiere are highly recommended.
JOUR-392 Global Journalism (W 9:30a.m.-12:00p.m.)
South Asia's Ring of Fire: Reporting on the small buffer nations between nuclear giants provides critical insights into bigger global issues. This seminar will explore close-up problems facing everyone: climate change, nuclear threats, unstable economies and clashes of religions and cultures through the lens of Nepal, Kashmir and Afghanistan.