Courses and Requirements for the Minor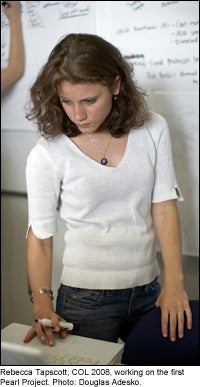 To complete the minor, students must take at least six Journalism classes, including four required classes. The minor also requires completion of an internship at a news media outlet.
All courses are open to non-minors unless specified otherwise.
The required courses are:
JOUR-100 Introduction to Journalism
Offered in the fall and spring
This course provides students an overview of the basics of journalism, beginning with how to assess the news value of an event or situation, how to develop story ideas and how to put together a story. Much attention is paid to writing clearly and accurately and developing interviewing skills. The course also introduces students to the changing media landscape and the various multi-platforms available to journalists today. Journalistic ethics are a focus as well. Guest speakers include working journalists from the Washington media community. There will be several short writing assignments and a final project.
Note: This is the gateway course for journalism minors.

JOUR-200 Digital News
Offered in the fall and spring
This course gives students a firm grasp of the skills necessary to produce online news content as well as an understanding of the forces that are driving the rapidly changing and diversifying online news industry.
Students receive a mixture of practical instruction in online news writing, multimedia news production, blog posting and social media management. Students are also be expected to engage in critical analysis of the journalism profession, contemporary online journalism and the economic, social and technological drivers shaping online news consumption. Assignments include individual news stories and multimedia elements, including podcasting and video production.
Prerequisites: "Introduction to Journalism"

JOUR-350 The Media Industry
Offered in the spring only
This course is for students who are participating in an internship (or have already completed an internship) at a media outlet (print, broadcast or online). This workshop-style course will give students an opportunity to share their experiences with other students engaged in similar journalistic pursuits, while exploring the business of journalism, career journalists and the media world at large. Written assignments will include a semester-long journal and ongoing occasional short pieces and a final media project that students pitch to a professional media outlet.


JOUR-490 Journalism Capstone
Offered in the spring only
Candidates for the minor take this course in the spring of their senior year. This course requires one substantial piece of journalism and one substantial academic paper exploring a critical topic of journalism, studied in its cultural, ethical and/or historical contexts.
Sequence
Courses should be taken in the following order to successfully complete the Minor:
JOUR-100 Introduction to Journalism
JOUR-200 Digital News
JOUR-350 The Media Industry. The two required electives may be taken at any time. One elective must be completed before the final semester of senior year.
JOUR-490 Journalism Capstone must be taken in a student's senior spring semester.
Electives
The list of electives below is not comprehensive, and not every course is taught each semester. Current lists of courses will be maintained by the Minor Director and the College Dean's Office. Courses that students wish to count toward their electives that are not on the list must be presented for review to the Minor Director before the student takes the course.
JOUR-361 Feature Writing
JOUR-363 Art of Editing
JOUR-364 Living Out Loud: Writing for Radio
JOUR-365 Covering Sports
JOUR-366 Food Writing
JOUR-367 Media Law in the Digital Age
JOUR-368 Media and Social Justice
JOUR-369 The Reported Memoir
JOUR-370 Magazine Writing in the Digital Age
JOUR-372 The Interview
JOUR-373/ENGL-299 Washington Confidential
JOUR-374 Video News Production
JOUR-376 Covering the White House
JOUR-377 Government-Media Relations in the Digital Age
JOUR-378 Pop Culture, Race & The Media
JOUR-379 Broken News: Journalism & Citizenship
JOUR-380 Crime, Justice and the Media
JOUR-385 Science and Environmental Justice
JOUR-400 Telling the Truth
ARAB-213 Arabic Media I
ARTS-162 Introduction to Graphic Design
ENGL-241 Literary Representations: NYC
ENGL-256 Documentary
ENGL-282 Creative Non-Fiction Writing*
ENGL-294 Writing to be Heard
ENGL-458 The Writer's Perspective
AMST-379 Sports Personalities of the 20th Century
FMST-350 Film Festival Studies
FMST-355 Documentary Film: History and Theory
FMST-399 CBL: Social Justice Documentary
GOVT-393 American Politics and the Media
JUPS-333 Alternative Media and Post-Colonial Communication
MUSC-161 Writing About Music
MUSC-251 Audio for Documentary
MUSC-270 The Music Documentary
MUSC-361 Podcasting
SEST-601 Media, Public Opinion and National Security
Spring 2021 Courses
The Georgetown Journalism Program is excited to welcome students back to the Hilltop this fall! Scroll through our list of journalism courses that will be offered during the Spring 2021 semester.
JOUR-100 Introduction to Journalism (W or R 9:30a.m.-12p.m.)
JOUR-200 Digital News (T/R 2:00 -3:15 p.m.)
JOUR 350 – The Media Industry (T 6:30-9:00 p.m.)
Required for the minor: This course is for students who are participating in an internship at a media outlet (print, broadcast or online). An alternative to the traditional one-on-one tutorial, this workshop-style course will give students an opportunity to share their experiences with other students engaged in similar journalistic pursuits.
JOUR 374 – Video News Production (M/W 8:00-9:15 p.m.)
In this course, you will learn the technical and journalistic fundamentals of broadcast news production from behind and in front of the camera. While the focus will be on television news, much of what you learn will be applicable to the many digital platforms. You will critique current news stories, learn how to make your own successful story pitch, fundamentals of how to use a video camera, interviewing and on- camera skills, and how to edit your own stories using a top non-linear editing system.
JOUR-375 Free Speech (W 2:00-4:30p.m.)
This seminar will examine the dialogue taking place within the United States and around the world on issues of free speech. We will discuss international and domestic protests over politically sensitive cartoons, controversies over Holocaust denial, whether hate speech should be banned, whether anti-gay religious activists have a right to disrupt military funerals, whether pornography and violent lyrics deserve protection, and whether campus speech codes have a positive or negative effect.
JOUR-403 Reporting Foreign Affairs (W 6:30p.m.-9:00p.m.)
Throughout history, the role of the foreign correspondent has been crucial to disseminating information and raising awareness of global policies as they played out on the ground. But as news organizations have cut back on reporting from other countries, government officials and the president continue to make historic decisions regarding international affairs. This course will explore the causes and consequences of these developments, in recent past and now. Students will evaluate and assess how the media operates, both as watchdog and pawn of government sources and institutions.
JOUR-405 Science and Environmental Journalism (M 9:30a.m.-12:00p.m.)
This course will cover the basics of reporting and writing about science and the environment. Guest journalists will share how they craft accurate and engaging science journalism for websites, newspapers, television and radio. Visiting scientists will give the students a chance to conduct an interview and try translating the scientists' research into lively copy. Students also will visit a longterm climate change research site and attend hearings on Capitol Hill or at federal agencies so they can witness the current political struggle over science and the environment.
JOUR-490 Journalism Capstone (R 11:00a.m.-1:30p.m.)
Required for the minor: The capstone is the final course in the journalism minor curriculum. Minor candidates meet weekly in a seminar setting to brainstorm, pitch, outline, edit and critique final journalistic works.